On 24 March 2020, South African retailors faced the reality of the country being placed in complete lockdown. After successfully navigating this for almost a year, they had to put their battle gear on and face fresh challenges in 2021.
Not only did they have to deal with the lockdown challenges that they faced in 2020, they had to deal with the worsening effects of the Supply Chain Crisis and the civil unrest that took place in July 2021. I recently read an article on News24 which showed how retailors were impacted by these challenges and how they addressed them.
Shoprite
The article points out that at the beginning of 2021, the value retailer finalised the sale of its operations in Nigeria 16 years after entering the country, following regulatory hurdles. It also closed its operations in Kenya and is in the process of exiting Madagascar and Uganda. Its exits reflect a challenge that many SA Inc companies have faced in Nigeria.
But South Africa posed its own challenge to the USave and Checkers owner, when more than 200 of its stores were attacked by looters during the July unrest in KwaZulu-Natal and Gauteng.
The article added that this resulted in damages amounting to R1.2 billion for the group.
On a positive note, the retailer's brands continued to gain market share and its Checkers Sixty60 grocery delivery app, which it launched in 2020, saw strong growth.
Pick n Pay
The article pointed out that Pick n Pay also saw more than 200 of its stores looted and destroyed in the unrest, and calculates that it lost about R1.7 billion in sales due to the July unrest and government Covid-19 bans on the sale of alcohol.
But the group is reaping the benefits of its modernisation programme, which comes with a more efficient supply chain, strong working capital and capital investment, as well as more cost-effective store and support office operations.
The article added that demand for the retailer's discount supermarket chain Boxer grew and the group plans to open 200 additional stores.
Pick n Pay also partnered with Standard Bank, which will have small branches inside select stores.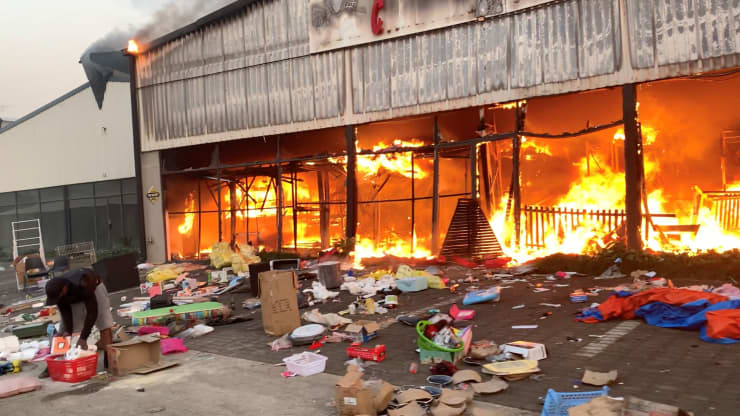 Woolworths
The article pointed out that there was a bit leadership shake-up at Woolworths, with the group's CEO for its SA business, Zyda Rylands, stepping down due to personal circumstances after leading the division for six years. The retailer did away with the South Africa CEO position.
Woolworths took big strides to reduced its large debt burden – with the sale of two of key Australian properties reducing it by by 91% to R1.1 billion for the year to end-June.
The article added that the company also announced plans to increase its store workers' base pay from R33.40 per hour to R41.
Spar
The article pointed out that, following on growing demand for online delivery services, Spar began piloting its SPAR2U delivery service. The move puts Spar on the growing list of grocery retailers which offer delivery services, like Pick n Pay's ASAP!, Checkers' Sixty60, and Woolworths' Dash.
The article added that as many as 184 Spar stores, including 62 Tops liquor stores and 31 Build It stores, were looted and damaged during the riots.
Mr Price
The article pointed out that the apparel and homeware retailer made two key acquisitions, with its purchase of online high-end kitchenware store Yuppiechef. And it stuck to its value roots with its acquisition of Power Fashion, a clothing and footwear retailer that was established 65 years ago in Eswatini by the Otto family. The brand has 170 stores across Southern Africa.
As global supply chain challenges continued on the back of the Covid-19 pandemic, Mr Price, which imports 40% of its products from China, said it will ramp up local product sourcing to 100 million units.
The article added that some 111 of the group's stores were affected by the July unrest.
TFG
The article pointed out that the Foschini Group (TFG) also made some key moves in 2021, building up the Jet store homeware offering with the launch of standalone stores. The brand, which TFG acquired from Edcon in 2020, also entered into a partnership with TymeBank that will provide shoppers with access affordable banking services at the retailer's stores.
In addition to the strides it's making in homeware and banking services, TFG roped in the co-founders of online fashion retailers, Superbalist's Claude Hanan and Luke Jedeikin, to run its technology division TFG Labs. The group also acquired mobile software developer Flat Circle.
The article added that the group has been building up its local manufacturing capacity over the past eight years. Currently more than 72% of its clothing is produced locally. Some of TFG's products will be produced by a hearing-impaired workforce, which has been bolstered by the launch of its Prestige Clothing factory in Johannesburg.
TFG, which owns brands including Foschini and Donna, had 198 stores that were impacted by July's unrest.
Truworths
The article points out that clothing retailer Truworths, has seen the value of South Africa's lower end fashion market, announcing that it is launching a new chain in that market. The move will put it in competition with lower end fashion and homeware retailers Pep, Jet and Mr Price.
In a trading update for the three months to end-September, Truworths warned that its sales were hit by stock shortages due to the global supply chain crisis.
The article added that some 57 of its stores were hit in the July unrest.
CNA
The fireworks continued at stationery retailer CNA, which is currently in business rescue.
The article pointed out that the chain has been struggling to pay its suppliers, as a battle raged on between CEO Benjamin Trisk and the board. A controversial figure, Trisk has been accused of contacting business rescue practitioners behind the board's back and agreeing to an expensive funding arrangement and a service contract that is alleged to be a conflict of interest.
The board alleged that Trisk has resigned as CEO, but he denied it.
A shift to the left
Reading the thought leadership articles on the Gordon Brothers website, it is becoming clear that there is a significant shift towards online retail in many markets around the world.
Companies are responding to this by transforming their bricks and mortar stores to mini distribution warehouses where online orders are packed and either sent out for delivery or processed for instore collection. Employees are reskilled to accommodate this shift.
This could be a reality in South Africa. However, a few things need to take place:
Government will have to address the connectivity issue, many parts of South Africa are only starting to become connected to mobile networks, connection to the internet will prove challenging. Government is making strides towards this in its digitisation programme which will free up spectrum that can be converted into Wi-Fi signal; and
If the above move proves successful, companies will need to find the budget to reskill their employees. In an environment where profits are hard to come by and consumer discretionary spending is under significant pressure, this may prove to be a significant challenge.
Can South African retailors make this shift? Of course, they can. Will it be an easy transition? Not in the slightest.