Putting the SAA business rescue aside, there have been a few business rescues which have been successful and have proven to be significant to the profession in terms of the lessons learned during the implementation of these rescues. Let's be honest, any rescue undertaken during a crisis is a case study waiting to happen.
One of the unsuccessful rescues was that of CNA. It came as a shock to many outside of the business rescue profession because CNA had a seemingly strong business model (judged solely on the number of CNA outlets in the country). But those within the profession knew that the company was facing a ticking time bomb in terms of its financial distress. It was more of a case of when the company would slip into financial distress as opposed to if the company slipped into financial distress.
One of the major factors working against the stationary giant was that the business landscape had changed so much that the company did not have a market to sell its product. With the recent news that Ster-Kinekor has found investors to save the company, we need to ask if the cinema giant is facing the same challenge.
Major investors
Let's take a look at a recent article by News24 which discusses the new investment that Ster-Kinekor has found.
The article points out that two investors have proposed to fund the business rescue of Ster-Kinekor with a commitment of R250 million, the company's business rescue practitioner announced. UK-based Blantyre Capital specialises in investing in equity and debt "special situations", while Greenpoint is a specialist private credit investment management firm, headquartered in Cape Town.
The R250 million will be used for future operations, to facilitate the exit of Ster-Kinekor from business rescue and to refinance the existing capital structure. The offer forms the basis of a business rescue plan that was published at the end of February 2022.
The article adds that Ster-Kinekor is South Africa's largest cinema group. It goes on to point out that as part of the transaction, shares in Ster-Kinekor will be transferred from the existing shareholders to the investors and result in their full ownership of the company.
"The facility provides the quickest and most efficient manner to exit Ster-Kinekor from business rescue and return it to solvency, whilst also seeking to maximise recoveries to pre business rescue and on-going trading creditors of the business," said the business rescue practitioner Stefan Smyth in a statement. The creditors now have to vote on the proposed plan.
Ster-Kinekor currently has 776 employees.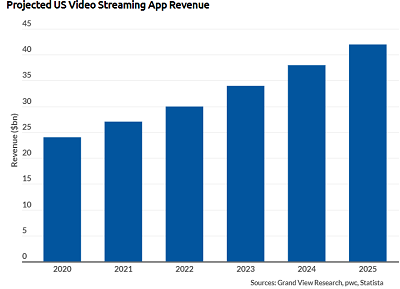 The changing landscape
A major development that will be concerning to Ster-Kinekor, and more concerning to television service providers like DSTV, is the growth in online streaming. Will the growth of these services be significant enough to obliterate the opposition?
A recent report pointed out that the market size of global video streaming was valued at $50.11 billion in 2020. It is expected to expand at a compound annual growth rate (CAGR) of 21.0% from 2021 to 2028.
The report adds that this will be driven by innovations, such as blockchain technology and artificial intelligence, to improve video quality which are expected to boost the market growth. AI is playing an essential role in editing, cinematography, voice-overs, scriptwriting, and several other aspects of video production and upload. Various video streaming solution providers use AI to improve the content quality of videos. In the recent past, the popularity of such platforms over broadcast media such as YouTube and Netflix have increased considerably. Moreover, the rapid adoption of mobile phones owing to the growing popularity of social media platforms and other digital mediums for branding and marketing is anticipated to further fuel the growth.
Pay attention to app usage
The growth of streaming services was an early indicator for the disruption companies are currently experiencing.
I recently read an article which pointed out that, in the mid-2000s, improvements to data speeds and broadband costs led to an explosion of first-generation video streaming services. A group of ex-PayPal employees founded YouTube in 2005. Seeing the success of it, DVD rental company Netflix scrapped its planned streaming device and launched an internet-based streaming service instead.
Only a year after the launch of YouTube, Google acquired it for $1.65 billion. At the time, it was seen as an extravagant purchase, for a nascent technology which hadn't generated any meaningful revenue. But, for Netflix and Amazon, it was confirmation that this market was set for spectacular growth in the next decade.
The article pointed to some frightening statistics. I will highlight the user growth for the services that are currently available in South Africa and one which will be launching in South Africa in June 2022.
YouTube is the most popular video streaming service in the world, with over two billion active users;
Netflix is the largest paid-for video streaming service in the world with 195 million subscribers in the US and a $17 billion annual content spend which is set aside for original content;
One of the many perks of an Amazon Prime subscription, which has become a force in its own right with hundreds of original shows which means that the service does not have to fork out a lot of cash to purchase premium content.
Disney+ was launched in November 2019 and set to launch in South Africa in June 2022. Disney+ is already a global force in the video streaming market, with over 70 million subscribers worldwide.
Why will this grow in the future. Just have a look at the following statistic which was provided by Statista. This is the amount of revenue that was generated by streaming services in the us between 2020 and 2015:
2015 $7.1 billion;
2016 $9.3 billion;
2017 $12.5 billion;
2018 $15.2 billion;
2019 $18.8 billion; and
2020 $24.1 billion.
According to Statista, this will only grow in the future:
2020       $24 billion;
2021       $27 billion;
2022       $30 billion;
2023       $34 billion;
2024       $38 billion; and
2025       $42 billion.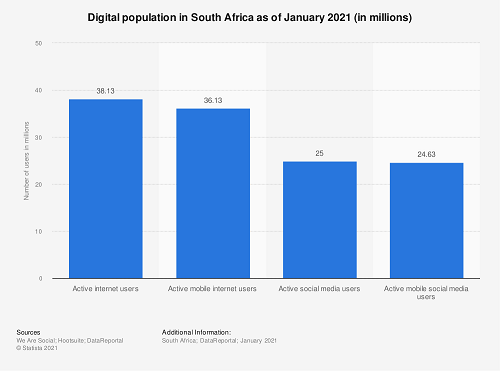 The relevance to South Africa and why Ster-Kinekor…and DSTV… should be worried
It must be pointed out that the above statistics – as well as the other statistics provided in the article (for the UK and China) – are for very developed markets that have good internet connectivity.
South Africa is improving its internet connectivity. According to Statistics South Africa, 38.13 million South Africans are connected to the internet. Of that, 36 million South Africans are mobile internet users.
With just under half of the population connected to the internet and plans from Government to make Government sponsored wi-fi available to every South African household within the next two years, we should see the revenue generated by streaming services in South Africa increasing massively.
This is a clear indication that there was a visible shift in consumption habits before the Covid-19 Pandemic; the Pandemic then created a platform of permanent change. This is problematic for Ster-Kinekor because it could cannibalise the company's operating model. It will face the same question as CNA, Is there a market for my product. For DSTV, this is a huge challenge, especially when television companies such as CBS and NBC stop selling premium content as they move it to their own streaming services.
Robin Nicholson is the Director of Corporate-911 and is a Senior Business Rescue Practitioner.