July was a dark month in South Africa's history.
After the imprisonment of former President Jacob Zuma, a small group of South Africans took to the streets and attempted to carry out what the African National Congress has now labelled a failed insurrection. The looting and civil unrest cause major havoc to businesses who were trying to implement economic recovery plans to address the immediate challenges posed by the Covid-19 Pandemic.
Since then, we have been trying to quantify the true impacts of the looting and civil unrest. There have been many reports. However, until now, we have not seen the actual fall out in terms of liquidations and insolvencies. According to an article by the Daily Maverik, this may take a change for the worst.
Major challenges
The article points out that the estimated number of insolvencies increased by 129.7% in the three months ended July 2021 compared with the three months ended July 2020, Statistics SA said on Monday. 
The data showed a year-on-year increase of 157.7% in July, from 104 last year to 258 insolvencies in 2021.
Insolvency refers to when a company can no longer pay its debts. By law, when a company's liabilities exceed its assets, it is insolvent. The business owners must then apply for it to be liquidated, or else be forced by the courts to do so.
The article adds that, for the first eight months of the year, up to August, there were a total of 1,327 liquidations.
The hardest-hit industries were the finance and insurance sectors, with 427 insolvencies year-to-date, followed by trade, accommodation and catering, with 286 liquidations. Liquidations in the community services sector were also in double digits, with 106 so far.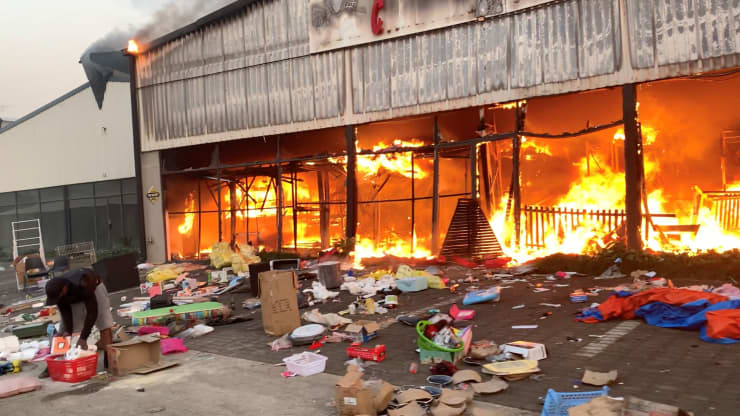 Record high unemployment
The article points out that the industry spread correlates with sector-specific job losses shown in the quarterly unemployment figures published in August, which showed the jobless rate at a record high of 34.4% in the second quarter of 2021. In that quarter, finance and services haemorrhaged more than a quarter of a million jobs.  
In 2019 and 2020 liquidations surpassed 2,000, and the latest figures for 2021 suggest the mark will be breached again, reflecting the parlous state of the economy first battered by the Covid-19 pandemic and then the looting and burning of businesses in July in a week of violence triggered by the arrest of former president Jacob Zuma.
The article adds that the unrest caused more than 300 deaths and is estimated to have cost the economy about R50-billion. The impact of lockdown restrictions may be more pervasive and longer lasting, especially on tourism and related retail activity.
The government loosened Covid-19 lockdown restrictions in late July and in mid-September. But the tougher restrictions beforehand, such as the booze sales bans, have already taken a deep toll on sectors such as tourism.
The Bureau of Economic Research (BER) said that tourism "is without a doubt one of the industries that has been hardest hit by the Covid-19 pandemic".
The BER said that based on tourism expenditure in 2020, the sector's contribution to GDP shrank from 7.2% in 2018 to 2.9% in 2020, and the number of jobs supported by the industry declined from 1.6 million to 640,000, hence its outsized impact on bankruptcies in 2021 as internal and external travel plummeted.
What now?
There is support that small and medium sized companies can access too help them overcome the worst effects of the July unrest. Government has offered 24-month interest free loans to these businesses.
However, it is one thing to access the loan, it is another thing altogether to pay it off. Robin Nicholson, Director of Corporate-911, provides some pointers to make these payments a success.
Phase 1; you need to ascertain whether you still have a viable business and an opportunity to return to a profitable core? This may seem like a tough call to make but consider your market and customers. They are probably still there and will want to support you. Communicate with your customers on all available platforms. Social media can be a great way to localise your messaging and cheap if you do it yourself.
Then you need to ascertain how long you will be closed for while rebuilding the business. During this time, can you offer products/services from other branches? Where are these branches located? Can you get a call centre set up to take orders and do drop offs for collection or deliveries? Always keep your customers the centre piece of your turnaround.
Phase 2; rebuild the infrastructure. The actual physical damage needs to be repaired and valued for the insurance claims. You will also need to deal with the human resource issues during this phase. What staff will be retained? What will the layoffs be? Place staff on leave if they are not essential for the rebuild. Can they claim UIF? If so, make sure the administration and registration is up to date.
You then need to rebuild your supply chain and negotiate with trade creditors. Will they give you extra time to pay? Can you use the interest free loan to pay them and to restock your business?
If you have contracts to fulfil, can you outsource them to keep the relationship? Help your customers solve the challenges because of the disaster. You can get them back later.
Phase 3; do a business plan and detail a 13-week cash flow for your business. Call your creditors and explain the challenges. They can only help if you ask.
There are certain rules that apply to this phased approach:
Rule 1; determine how deep is the hole you are in;
Rule 2; how hot is the fire and what is the time frame within which you must pay creditors? Extended terms of payment are cheaper than any other debt;
Rule 3 if you don't ask for help, creditors can't say yes;
Rule 4 have a cash flow and a recovery plan. It does not need to be an MBA styled plan, focus on the big things that need to be done with a clear set of priorities and get them done. It seems overwhelming but focus
Finally, get enough sleep and manage your stress. Burnout is your enemy is a disaster and a crisis turnaround.