Over the past two months, I have provided my insights into the South African Airways (SAA) business rescue. We looked at the root causes of SAA's distress as well as industry trends which will possibly shape the airlines future.
But what does that mean for the airline? I have my own feelings about how the rescue should have been managed. I present them below.
Initial recommendation
My initial recommendation was that rather than government operating three airlines(SAA, its subsidiary Mango, and SA Express [a separate company]), in what is perceived to be different markets, it would have made sense to consolidate them into one company. This type of merger is typically based on synergies in related Businesses (1+1=3) as well as economies of scale. The management skills for running an airway are the same and shared services could combine support for finance, procurement, and systems thereby reducing duplication and costs.
SAA competes head-on with Mango on Domestic routes i.e. competing against itself in the form of a full-service airline (SAA) vs low-cost airline (Mango). SAA could not operate any of these routes profitably which shows that there is not sufficient demand for a 2nd full-service airline (i.e. British Airways and SAA). It is therefore just reducing (cannibalizing) Mango sales. As a result, I suggested that Mango be rebranded as a low-cost SAA for Domestic and Regional Routes. This would also satisfy the need to see the SAA logo on aircraft serving the domestic market.
The Business Rescue plan suggested a mix of 10x small, narrow-body, 9x narrow-body, and 7x wide-body aircraft (i.e. 26 total). The Government was not interested in saving SA Express so I assume that the proposed small narrow-bodies (small jets) would replace the short-haul aircraft that SA Express operated before. The narrow-body aircraft could be used for the Domestic and Regional market and the wide-body aircraft for one-stop International flights. There is overlap between short, medium, and long-haul routes. By standardizing on 1 type of aircraft for each, the mix could be optimized in terms of the range and the number of passengers to achieve the maximum profit and aircraft utilization (number of hours used per day). The small, narrow-body, short-haul aircraft could be used on thin domestic and regional routes to achieve the necessary passenger load factors. Narrow-body aircraft can then be used for thick domestic routes (typically Johannesburg to Cape-Town) and thick Regional Routes. I am not sure if the long-haul wide-body aircraft could be used for regional routes because I suspect the passenger numbers may not be sufficient to make it profitable.
Final recommendation
SAA was a small player even in Africa terms (7th biggest). Airlink dominates the Short-haul market and there is overcapacity in the medium-haul market with several low-cost airlines and British Airways with a full-service offering. This leaves the long-haul International market in which SAA could not operate at a profit with only one profitable route. International travel is likely to only return to pre-Covid levels in the next two years and, given SAA's size, competing with big international airlines does not make sense. I would therefore not recommend that SAA be restarted unless Mango was rebranded as SAA (i.e. without adding more aircraft capacity). Mango is also in financial trouble. If this means more bailouts I would also close down Mango because there is overcapacity in the medium-haul market even when we exclude Mango.
However, if I were the Interim CEO that is tasked with restarting SAA I would adopt a new approach to strategy. Due to lower passenger numbers, the whole industry will have to move to smaller aircraft to achieve breakeven passenger load factors. SAA can start with a clean slate. This enables them to move to the ideal state before anybody else. Being first and capturing dominant market share in a niche market will make it difficult for competitors to enter this niche market and take market share away from SAA.
The whole environment has changed since the Business Rescue Plan was issued in June 2020 (3 months after the lockdown). SAA has been mothballed and it has handed back all its leased aircraft SAA. As a result, SAA's (13%) and Mango's (22%) combined market share of 35% in the domestic market has dropped to Mango's 14% market share (down from 22%). SAA has never been a big player in the domestic market and Mango has also been reduced to a small player. Their routes and market share were taken up mostly by FlySafair (a low-cost airline) and Airlink.
Ignore short-haul
It would not be wise to try to enter the short-haul market, with small airports and short runways, that were previously served by SA Express and Airlink using Turboprop aircraft and small jets. Airlink is the largest independent regional airline in southern Africa, linking more passengers to the smaller towns, cities, and regional centers than any other local airline. It focuses on short-haul domestic and regional flights. Airlink has taken over all the SA Express routes and introduced some new regional routes.
They operate similar aircraft to SA Express's fleet before it was sold, that are suitable for African conditions with short airstrips and "hot and high" operations. This includes Embraer ERJ Turboprop aircraft as well as the Embraer E-Jet regional jets. They have 4 different sizes of aircraft and can match the number of passengers and frequency of flights with the optimal mix of aircraft.
They also have a huge number of point-to-point flights that leaves no room for potential entrants in this market (see graph below). They focus on thin routes with their aircraft capacity ranging from 29 to 114 passengers per flight. SAA should therefore focus on slightly thicker routes with more than 120 passengers per flight and its future strategy should focus on medium and long-haul aircraft.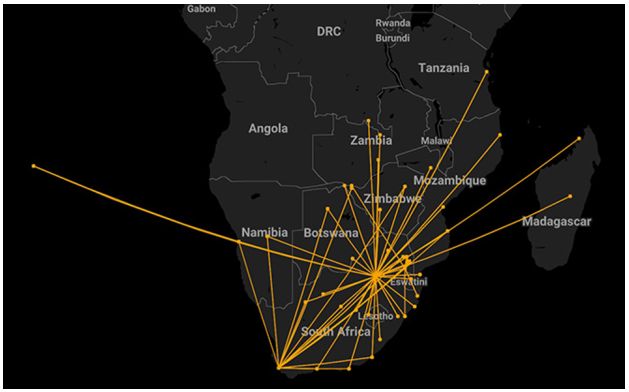 The International travel market is not expected to return to pre-Covid levels for at least the next two years. The interim CEO for SAA has therefore signaled that SAA will not consider International flights for the next two years. This leaves the medium-haul market for Domestic and Regional Flights.
Not profitable
None of the SAA's domestic routes was profitable pre-Covid. Even with the financial modeling (10% drop in Revenue and 25% cost saving) none of the local routes were profitable. It would therefore not make sense to introduce domestic routes. My recommendation is to rebrand Mango as a low-cost SAA for medium-haul Domestic and Regional Routes. Due to the overcapacity in this market, SAA should not add new/more capacity to the current Mango fleet.
The only problem with this is that Mango has a fleet of Boeing 737 aircraft whilst SAA has invested in Airbus aircraft with corresponding parts and training for pilots and maintenance staff. The Airbus A320 equivalent of the B737 is the world's best-selling aircraft and Airbus seems to have better technology. The problems with Boeing's new 737 MAX also do not bode well for the next generation of this aircraft. The Boeings will therefore have to be swopped out for the Airbus A320 family of aircraft.
Part of Mango's current financial problems is that it did not hand back the leased aircraft that are in service, which increases their fixed cost. Newspaper articles point to unfavorable leasing contracts which raises the question of whether the exit clause may be problematic.
SAA could not operate International flights profitably in the past (except for one). This was due to its high-cost structures and probably as a result of not achieving the necessary passenger break-even load factors. The International passenger market suffers from the same problem.
Post-Covid passenger numbers are forcing Hub-and-spoke operators to move away from the big wide-body aircraft with 4 engines (Airbus A380 and Boeing 747) to use smaller 2 engine wide-body aircraft like the Boeing 787 Dreamliner. New engine technology has now made it possible for even smaller, narrow-body planes to replace wide-body aircraft in a hub-and-spoke model to achieve the necessary passenger break-even load factors.
The new long-range narrow-body aircraft are capable of transatlantic flights and therefore ideal for point-to-point flights that are typical of Low-Cost Airlines. It also creates new opportunities for capitalizing on unserved or underserved regional and international routes.
Flying long-range, narrow-bodies, point-to-point will take some traffic away from the hubs. At the same time, passengers do not have to travel to big connecting hubs that are designed for big wide-body aircraft (like the Boeing 747's and A380 aircraft) that were traditionally used for international flights. One could, for example, travel to a smaller airport close to you to catch a flight to an international destination thereby changing the face of travel. Other destinations like small towns and the Kruger National Park will still be serviced by small, short-haul, aircraft using the hub-and-spoke model.
All of the above means that long-distance narrow-body aircraft can be used interchangeably on Domestic, Regional, and International Routes. This type of standardization on the A320 family of aircraft can be used as part of a low-cost strategy.
Clean slate
SAA can start with a clean slate so it has the opportunity to adopt a new strategy to do things differently and being disruptive by going after a niche market. The SAA will be a small fish going forward so there is no point in competing with the big international airlines. The only way to compete is by going after a small niche market with a different product offering. The suggested strategy will position SAA between the big airlines that are flying wide-body aircraft between hubs and the low-cost domestic point-to-point airlines.
SAA could compete profitably with airlines that use wide-body aircraft to fly between hubs using smaller aircraft. By including a few long-range narrow-body aircraft in its fleet it can fly to any of the previous International destinations using a one-stop strategy. This will eliminate the need for long-range wide-body aircraft to fly non-stop international flights. The competitive advantage, that it will give them over other airlines, is that this will allow them to fly the now, thinner International routes profitably.
It will also enable them to introduce new point-to-point International routes that cannot be serviced by bigger wide-body aircraft. Small 2 engine wide-body aircraft, like the Airbus A330 family, could be introduced later once the demand is proven but it should be avoided for as long as possible because it would mean standardizing on a second type of aircraft with implications for the investment in parts and training pilots and maintenance staff
It would also be able to fly regional routes over further distances than the low-cost domestic airlines (Kulula and SafAir).
Aircraft selection will be key
The OR Tambo Airport is 8,707km from Paris (Charles de Gaulle) and 9.076km from London (Heathrow). This is just beyond the range of the narrow-body aircraft and it will therefore not be possible to make non-stop international flights to Europe and America. Non-stop flights can only be achieved by smaller wide-body aircraft (carrying more passengers) such as the Dreamliners (Boeing) or A330 (Airbus).
An airline can buy two narrow-body Airbus A321XLR's ($129m) rather than one wide-body Boeing 787 Dreamliner ($248m). It would give them much more flexibility in terms of the smaller number of travelers post-Covid and would require only one stop to refuel. This can be used to SAA's advantage by flying to another hub in Africa before flying to Europe or America. For instance, the distance from OR Tambo to Dakar is 6,688km. The distance from Dakar to New York (6,140km) or Dakar to Washington (6,406km) is well within the Airbus A321 LR's range of 7,400 km or the A321 XLR's range of 8,700km.
Airbus has a wide range of aircraft that can be used. The table below just lists the A320 family of narrow-body, 2 engine aircraft, as part of standardization that is typical of a low-cost strategy. Based on this the smaller A319 and the A321 LR will both be able to fly the furthest distance to Dakar as part of a one-stop strategy to fly to America.
As I understand it the pilots can fly all the aircraft in the A320 family. These aircraft use the Airbus "Fly-by-Wire" (FBW) computer-controlled system instead of the conventional flight controls in other aircraft.
The A220 family has capacity that is similar to the A318 and A319. The A220 family is more suitable for small airfields with short runways but since this means competing with Airlink it is ignored for the sake of standardization on one type of aircraft.
The A318 has 90-110 seats and a range of 5,750km which is similar to Airlink's Embraer ERJ-190 AR (Advanced Range) E-Jet with 96-114 seats and a range of 4,448km but with an extended range of 1,302km.
The two engine wide-body aircraft like the A330 and A350 should only be considered at a later stage.
Passenger and freight aircraft can be used interchangeably to cater to peaks and troughs in demand. Airbus has implemented "Passenger-to-Freighter" (P2F) conversion facilities for the A320/A321 and A330. The optimal mix between passenger and freight aircraft can therefore be achieved by switching its application, as needed. This will increase utilization and improve profitability, without handing back leased aircraft and retraining pilots on new aircraft.
The mix of aircraft, routes, and the frequency of the flights will be important to maximize the load factors (% seats sold) and the number of hours flown per day (% utilization) to maximize profits but it can all be achieved by standardizing on the Airbus A320 family of aircraft.
The demand at the respective destinations will have to be matched to the size of the aircraft and its range. Where there is an overlap in range the right size aircraft can be selected for a destination, based on the number of passengers and number of flights to that destination per week.
The new long-range narrow-body aircraft could be used interchangeably for long regional flights and international flights. The smaller aircraft will
– Enable airlines to replace wide-body aircraft with narrow-body aircraft
– Make routes that were not profitable (due to low load factors on bigger aircraft) profitable
– Make routes that were not feasible before (due to lower demand) feasible
Conclusion
The Strategy should, therefore, focus on a niche market comprising of thin Regional and International Point-to-Point Routes and flying profitably between hubs when bigger, wide-body, aircraft do not have enough passengers to reach the break-even passenger load factors.
Standardization on the Airbus A320 family of aircraft as part of a low-cost strategy means that the staff and aircraft will be interchangeable between routes and can be kept to a minimum so that the utilization (hours that are flown per day) can be maximized thereby maximizing profit.
Hannes Brits is a Director at Kubu Business Optimization Consultants